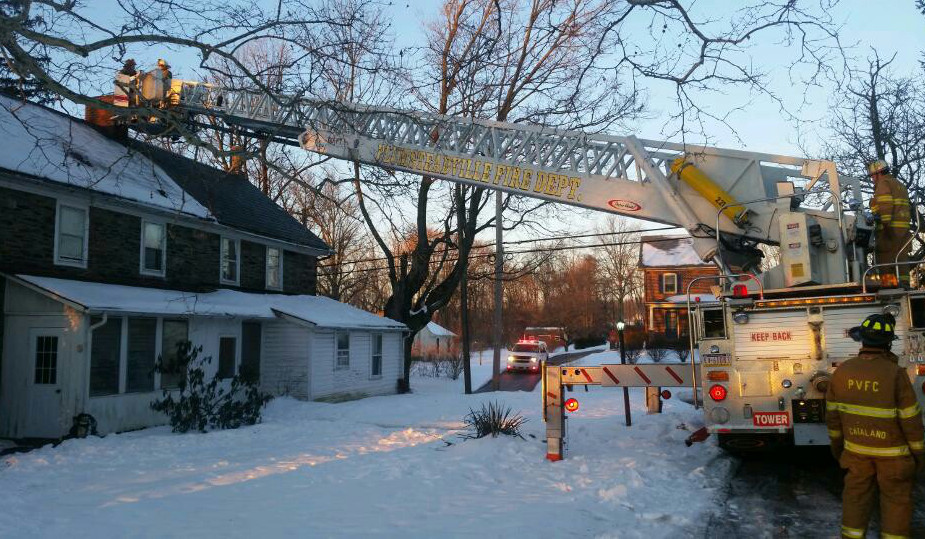 A chimney fire in action can be impressive, but is extremely dangerous; Indications of a chimney fire have been described as creating:
Loud cracking and popping noise
A lot of dense and dark smoke
An intense, hot smell
With proper care a chimney fire can be preventable, below are some easy precautions that could save you a lot of time and money.
Have your chimney or wood stove inspected and cleaned annually by a Certified Chimney Specialist.
Clear the area around the hearth of debris, decorations, and flammable materials.
Leave glass doors open while burning a fire. Leaving the doors open ensures that the fire receives enough air to ensure complete combustion and keeps creosote from building up in the chimney.
Close glass doors when the fire is out to keep air from the chimney opening from getting into the room. (Most glass fireplace doors have a metal mesh screen which should be closed when the glass doors are open. This mesh screen helps keep embers from getting out of the fireplace area.)
Always use a metal mesh screen with fireplaces that do not have a glass fireplace door.
Install stovepipe thermometers to help monitor flue temperatures.
Keep air inlets on wood stoves open, and

never

restrict air supply to fireplaces. (Otherwise, you may cause creosote buildup that could lead to a chimney fire.)
Use fire-resistant materials on walls around wood stoves.

Never

use flammable liquids to start a fire.
Use only seasoned hardwood. Soft, moist wood accelerates creosote buildup. In pellet stoves, burn only dry, seasoned wood pellets.
Build small fires that burn completely and produce less smoke.

Never

burn cardboard boxes, trash or debris in your fireplace or woodstove.
When building a fire, place logs at the rear of the fireplace on an adequate supporting grate.

Never

leave a fire in the fireplace unattended. Extinguish the fire before going to bed or leaving the house.
Allow ashes to cool before disposing of them. Place ashes in a tightly covered metal container and keep the ash container at least 10 feet away from your home and any other nearby buildings.

Never empty the ash directly into a trash can.

Douse and saturate the ashes with water.
Keeping your chimney clear on the outside of your house can prevent outside issues.
Stack firewood outdoors at least 30 feet away from your home.
Keep the roof clear of leaves, pine needles, and other debris.
Cover the chimney with a mesh screen spark arrester.
Remove branches hanging above the chimney, flues or vents.
Portable Heater Fires
Portable Space Heaters are a great heat in a small area without needing a fireplace, they are also one of the most dangerous types of heating methods.
Few safety tips for using Space Heaters:
Do not place heaters under desks or other enclosed areas.
Use newer heaters that have an automatic shut off feature (encase of an accidental tip over)
Heaters should be kept at least 3 feet (36 inches) from all combustible materials (e.g. file cabinets, desks, trash cans, paper boxes, etc.)
Heaters must be monitored when in operation.
Plug heater directly into a wall receptacle.

Never plug it into an extension cord

.
Heaters need to be monitored daily.
Heaters missing guards, control knobs, feet, etc. must be unplugged immediately and repaired by a professional.
Do not use heaters in rooms that will not be continually occupied.
Keep doors and windows closed, including storm windows. This will help prevent freeze-ups.
Keep space heaters away from exit ways, walkways and paths of travel.
Do not use space heaters in wet areas like bathrooms or kitchens.
Do not use portable space heaters if small children are expected in the area.
Facts statics about heater fires:
Space heaters, whether portable or stationary, accounted for one-third (33%) of home heating fires and four out of five (81%) of home heating fire deaths.
The leading factor contributing to home heating fires (28%) was a failure to clean, principally creosote from solid-fueled heating equipment, primarily chimneys.
Placing things that can burn too close to heating equipment or placing heating equipment too close to things that can burn, such as upholstered furniture, clothing, mattress, or bedding, was the leading factor contributing to ignition in fatal home heating fires and accounted for more than half (53%) of home heating fire deaths.
Half (50%) of all home heating fires occurred in December, January, and February.
Reference Materials
"Fireplace and Home Fire Safety." Fireplace and Home Fire Safety. USFA, 02 Jan. 2013. Web. 26 Sept. 2014.
"Heating." Hall, John R. NFPA, Oct. 2013. Web. 26 Sept. 2014.
"Heating Fire Safety Outreach Materials." Heating Fire Safety Outreach Materials. N.p., 08 Jan. 2014. Web. 26 Sept. 2014.
"Homeowner Resources." The Facts About Chimney Fires. CSIA, n.d. Web. 26 Sept. 2014.
"Portable Space Heaters" Tufts University N.p., n.d. Web. 26 Sept. 2014.
---